We want to empower you with information for buying a home. Get your free, editable home inspection checklist for Sarasota home buyers.
If you want to save yourself headaches down the road from your new home purchase, it's a good idea to get a home inspection. Use our home inspection information to feel confident in the process, and grab our free, editable home inspection checklist for Sarasota home buyers to take along with you!
🤔 What is a home inspection?
A home inspection is your guide to the Sarasota home you're buying. In the state of Florida, home inspections are regulated and must be completed by a licensed inspector.
A Florida home inspector renews their license bi-annually if they continue to meet education requirements. Before getting their license, the inspector must complete 120 hours of training.
Home inspections cover things like roofs, floors, foundations, house systems, and windows. These inspections do not cover things like chimneys, outside buildings, and insects. You can secure additional inspections for these things or add them on to an existing order if the inspector offers those services.
💵 Who pays for the home inspection?
While some home sellers get a home inspection done before selling their home, that is not the home inspection you should reply on for making a purchase decision. They get these inspections to fix potential issues, but you want an objective report.
Mortgage loan
lenders usually require that an inspection be done on behalf of the buyer. You can expect to pay for these inspections as part of your closing costs.
There are different inspections needed to cover termites, lead, mold, or radon. The cost of inspections varies depending on the size of the home, the area, and what is ordered for the inspection.
📱 Contact Brock Realty Inc.
We can help!
Your real estate agent is the best source of information about the local community and real estate topics. Give Brock Realty a call today at 📱 941-313-1234 to learn more about local areas, discuss selling a house, or tour available homes for sale.
✅ Home Inspection Checklist
It's a good idea to be present on the day of the home inspection. Expect to be there for several hours. Take along your home inspection checklist and a camera. Write down anything that catches your attention, and take a photo to help you remember details.
Note: A licensed home inspector is NOT looking for superficial issues that include things like peeling paint or floors that need to be replaced for cosmetic reasons. They are looking for serious problems that impact the integrity of the house.
Your home inspection checklist should include:
Roof
Foundation
Heating & Cooling Systems
Plumbing
Doors & Windows
Structural Integrity
Basement
Attic
Walls
Ceiling & Floors
Appliances
Electrical Systems
🏠 What impacts structural integrity?
Lack of proper maintenance, the environment, and poor construction can compromise structural integrity. The inspector will look for cracks in the foundation, floors that are not even, and space around windows.
Finding something wrong with the structural integrity of the home should be a red flag that you take seriously. You can choose to negotiate the terms of the sale or continue your search for a home elsewhere.
💧 What about water damage?
Water can cause a variety of problems that range from minor annoyances to problems that threaten structural integrity. It pays to take this type of threat seriously when getting a home inspection and look for signs of water stains on walls, ceilings, and in basements.
Unchecked moisture problems can create a haven for mold growth. Mold is not just unsightly, it's toxic and can cause respiratory illness and destroy property.
Summary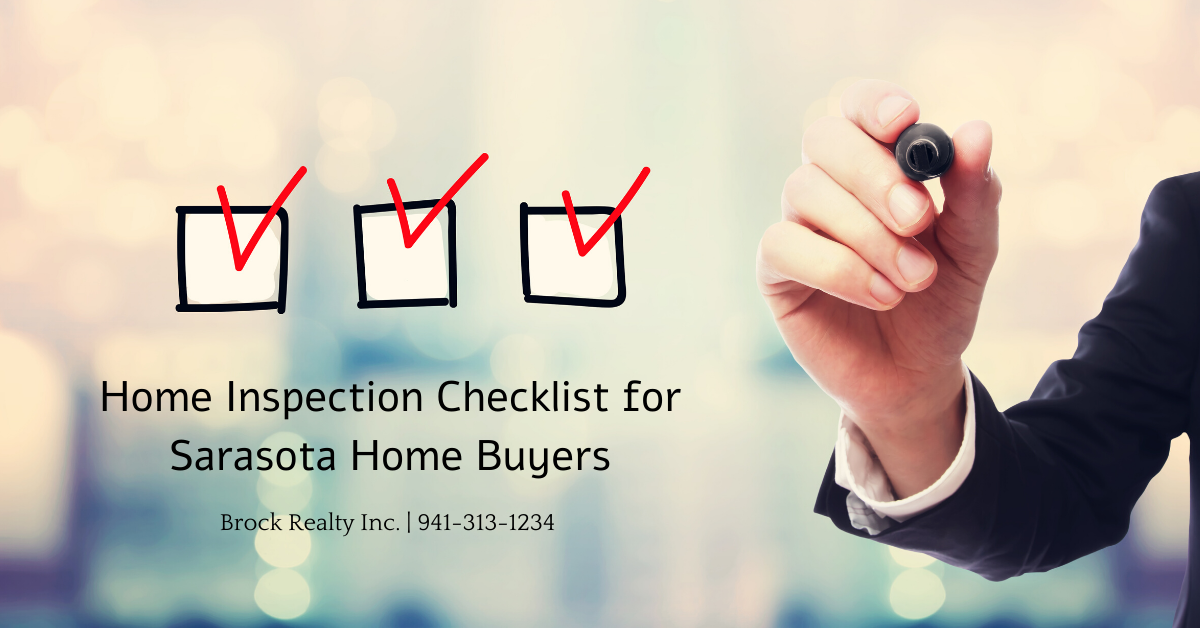 Article Name
Home Inspection Checklist for Sarasota Home Buyers
Description
We want to empower you with information for buying a home. Get your free, editable home inspection checklist for Sarasota home buyers.
Author
Publisher Name
Publisher Logo