Wondering how to celebrate Thanksgiving virtually in 2020? We've got some valuable tips to share with you. Stay safe and have fun!
We're living in unusual times due to the current COVID-19 pandemic. How we celebrate Thanksgiving has changed in order to keep those we love safe. We still want to have fun and spend time together, right? Don't let the challenges keep you from getting together with family and friends. We're going to show you how to celebrate Thanksgiving virtually!
🦃 Celebrate Virtually on Thanksgiving
There's something special about gathering with friends and family on Thanksgiving to watch the parade, cheer for our favorite football team, and savor a delicious meal, we have different considerations this year. Keeping the people we love safe is possible if we set up a Thanksgiving celebration using a virtual video chat platform.
Using video chat may be new to you, but we're living in a time when there are so many wonderful choices for chatting and having facetime. Which is the best for your special Thanksgiving gathering? Let's take a look at some options.
💻 Top 3 Video Chat Platforms
Most people have personal computers and phones that put the power of video chat technology at their fingertips. Because of the widespread use of social media and smart phones, we can meet with friends and family on Thanksgiving to celebrate virtually. Here are three of the top video chat platforms and a bit about their use.
You can connect with up to 50 people.
Download via Google Play Store or the Apple App Store.
You can use your computer's browser and webcam.
Connect with up to 100 people on the free version.
You can share your screen. A pretty cool option for playing games.
Check out the video below to learn more.
Download the app or use your computer's browser.
Set up a Thanksgiving community server.
People can pop in and out, share photos, and much more!
We have great news! There is a 40-minute time limit on meetings when you use a free account, but Zoom just told the world that they are lifting their time limit for Thanksgiving from 12:00 AM EST on November 26 to 6:00 AM EST on November 27.
We are excited about this contribution that makes it easier to connect with people for longer celebrations. We appreciate this act of kindness. Thanks, Zoom!!
Whether you are into a golden brown turkey or prefer a vegetarian option, there's no doubt that one of the best parts of Thanksgiving celebrations is the food! We don't have to sacrifice this delicious part of the holiday because we are getting together virtually. By making a few adjustments, we can still enjoy a meal together.
With a bit of organization, you can set up video chats that allow you to meal prep with others. Share the baking experiences and fun interactions as you baste the turkey or bake pies. Share your family favorites and exchange recipes ahead of time. You can create memories to cherish even if you can't be in the same room.
Keep the fun alive this Thanksgiving by not just cooking together but sharing the meal using the same video chat options. Share the fun and interesting table decorations and moments of gratitude before you dig into the delicious food you cooked together.
Get the kids involved in the celebration with themed Thanksgiving dishes and special treats. Check out this cool video we found with ideas that are sure to inspire.
📲 Connect with Brock Realty Inc.
We can help!
Your real estate agent is the best source of information about the local community and real estate topics. Give Brock Realty a call today at 941-313-1234 to learn more about local areas, discuss selling a house, or tour available homes for sale.
🧩 Thanksgiving Fun & Games
Let's have some fun! Put together a few games and activities that help you connect. Here are some ideas to get you started, but don't be afraid to get creative with games that fit the Thanksgiving theme. It's possible to plan a memorable and fun Thanksgiving celebration – even if we are dealing with challenging times.
Don't feel like you have to take on all the planning this year. Contact those who are attending for ideas and valuable input. Remember that structure is nice for keeping things on track for time, but we need to be flexible. If you're having a blast playing a game, there's no need to shut it down and move on. Let the fun flow and keep the fun alive.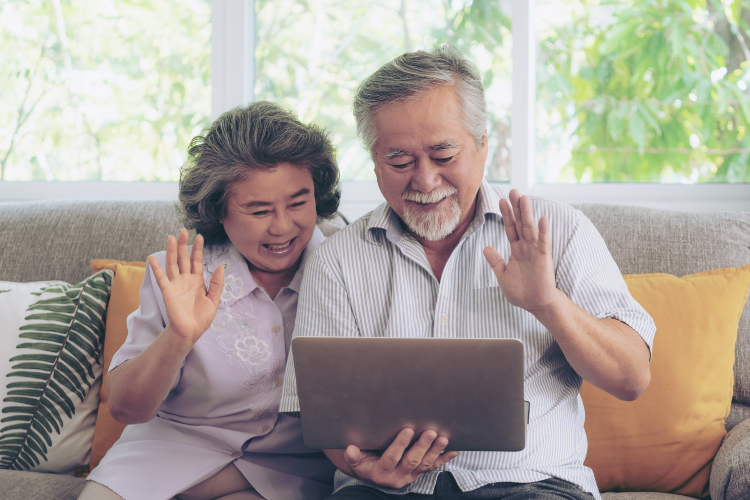 Scavenger Hunt
Create a list of items that people may have available in their homes. Set a time limit and go for it! You can ask people to return to the camera after each item to keep it active. Have a little prize to mail to the winner.
The Question Train
What was the worst dish you've had on Thanksgiving? What are you thankful for this year? Start by asking a random person. They ask someone else. Keep going until everyone has answered one question – or more!
Thanksgiving Trivia
Compile a list of Thanksgiving trivia questions. Create teams and let the fun begin. You can create questions in categories like Food, Traditions, or Family Facts. Alternately, keep it random.
🖍️ Creative Thanksgiving Crafting
You've put checks by planning the meal, exchanging recipes, and planning games, now what? A fun, creative craft session or two adds personality to the Thanksgiving celebration and helps create memories. Offer prizes that you can mail out after the gathering or just share some laughs. You'll be making cherished memories no matter which option you choose.
Send those attending your celebration a list of items ahead of time that they will need to have on hand. Alternately, you can put together craft boxes to send out so that they arrive in time for the video call. Using a chat platform like Discord is perfect for keeping people connected and organized. You can keep an open dialogue going as you plan the event.
Play-Doh Turkey Dinner
You'll want to have a variety of dough colors, newspaper, or something else to protect the surfaces and other things to help with the designs.
Who can create the most realistic dinner? Who created the funniest?
Extreme Lego Building
Choose a theme for the holidays or let everyone go crazy with their own designs. Big blocks for the kids and smaller blocks for adults.
Who builds the grandest design? Who wows everyone with something adorable?
Drawing or Coloring
Capture the magic of markers and crayons with themed color books or freestyle drawings. The catch is that you must send them to someone else.
Which coloring page is the most colorful? Who has the funniest drawing?
🍲 Ordering Thanksgiving Dinner in Sarasota
If cooking dinner is not something you are excited about but you still want a delicious meal, why not order a Thanksgiving dinner to be picked up or delivered? There are some positively marvelous options in the Sarasota area. Be sure to check for deadlines in ordering and note pick up times.
Consider coordinating with friends and family to make sure you're on the same page with meal choices. They may want to cook while you have something delivered. Stay flexible and have fun connecting.
Meals are packaged family style or individually.
Order by November 23 and pick up 11:00 AM – 1:00 PM on November 26.
Online ordering option.
Check out what they offer HERE.
Meals are packaged for serving six or ten people.
The cost depends on the size of your order.
Pick up on 10:30 AM – 2:30 PM on Thanksgiving day.
Learn more about offering HERE.
Pick up in-store or at the curb.
Traditional and vegetarian options are available.
Order by November 23 and pick up before noon on Thanksgiving.
See what they offer HERE.
🐎 Everyone Loves a Parade
The beloved tradition of watching the Macy's Thanksgiving Day Parade is not taking a break this year. Though the crowds won't be there and things are moving along the parade route a bit differently, we'll still be able to sit with friends and family, virtually, and enjoy wonder and magic.
For the first time, we'll see the parade in a different way, but we expect it to be just as amazing and enchanting. Be sure to tune in!
👨‍💻 Celebrate Thanksgiving Virtually in 2020
Sure, things are different this Thanksgiving, but we don't have to abandon our favorite traditions or the connections. Celebrate Thanksgiving virtually in 2020 to keep your family and friends safe. No matter how you choose to celebrate, we hope you have a fun and safe holiday.
Let's hope and believe that we can resume our in-person celebrations next year!
Summary
Article Name
Celebrate Thanksgiving Virtually in 2020
Description
Wondering how to celebrate Thanksgiving virtually in 2020? We've got some valuable tips to share with you. Stay safe and have fun!
Author
Publisher Name
Publisher Logo